Thomas Jefferson Partnership for Economic Development
Charlottesville, Virginia
Improved content management.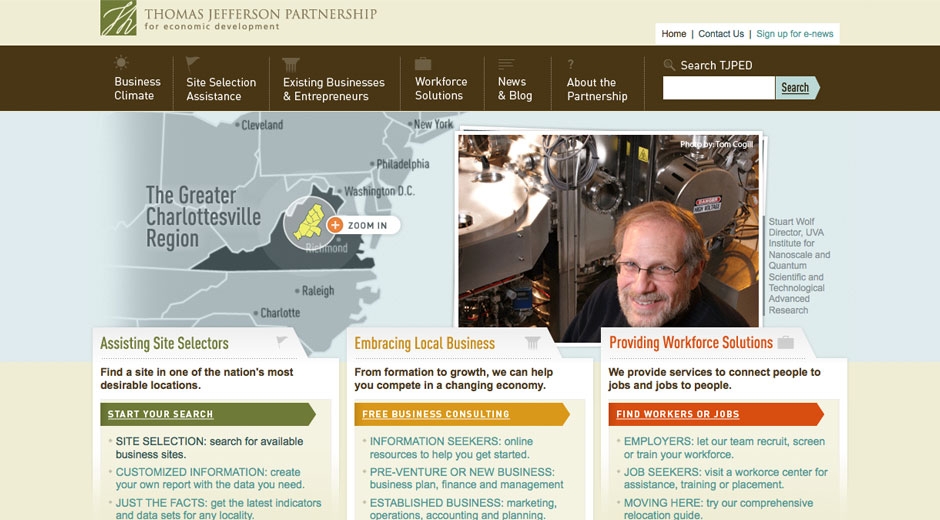 TJPED homepage features an interactive map, a photo slideshow and information on all three functions of the organization.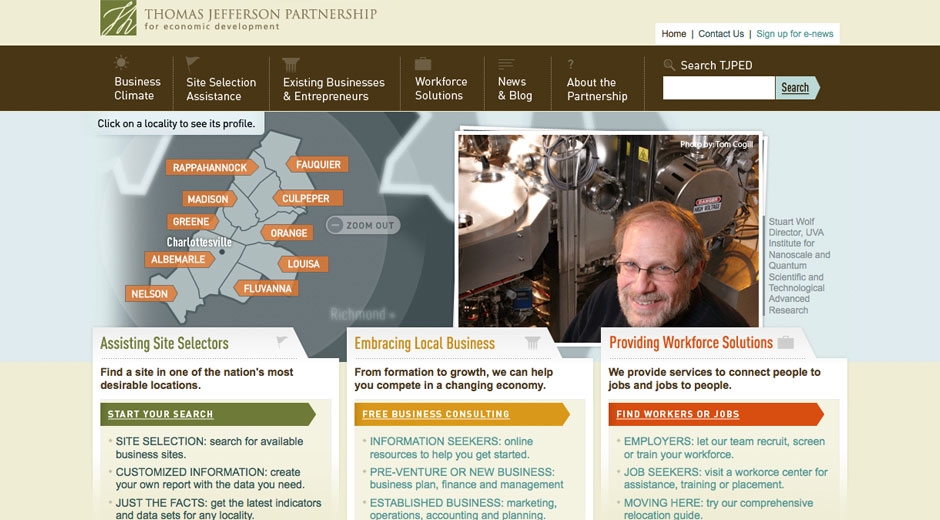 Visitors can zoom in on the interactive map to get quick facts or learn more about localities in the region.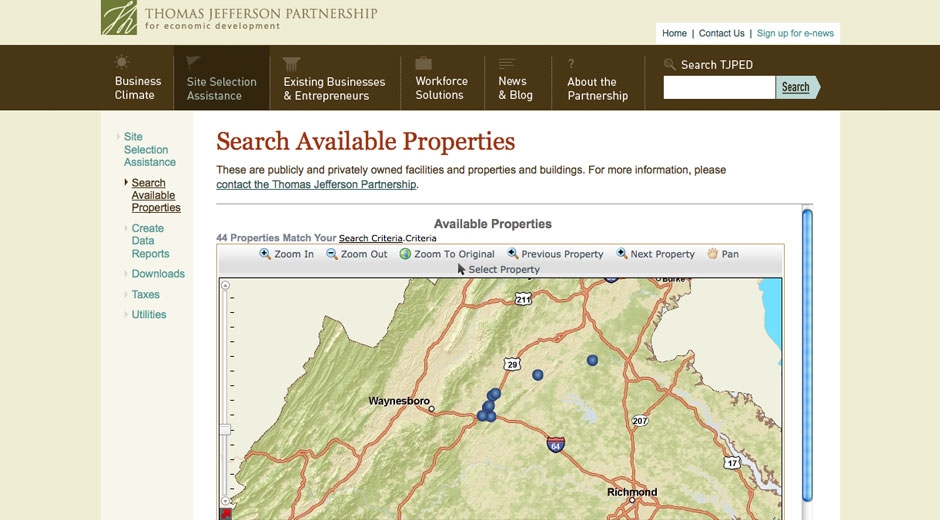 Visitors can search available commercial real estate using Virginia's state system.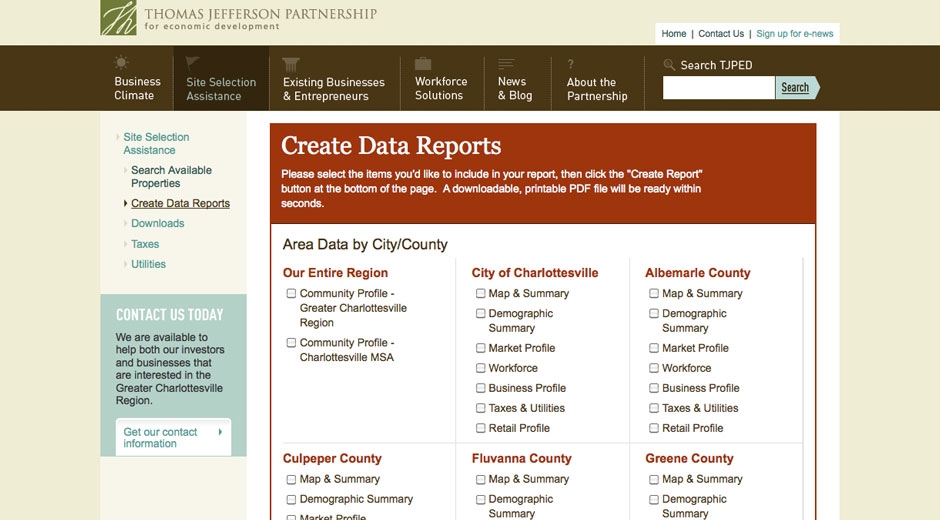 Visitors can configure a custom report and download it in PDF format. TJPED staff can upload data for this report using the CMS.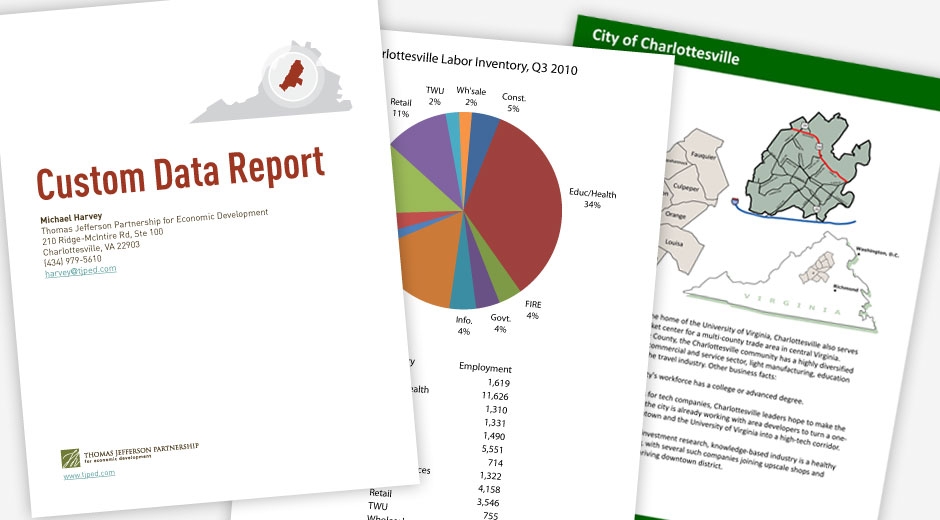 Custom data reports have a custom cover and are delivered in a print-friendly format.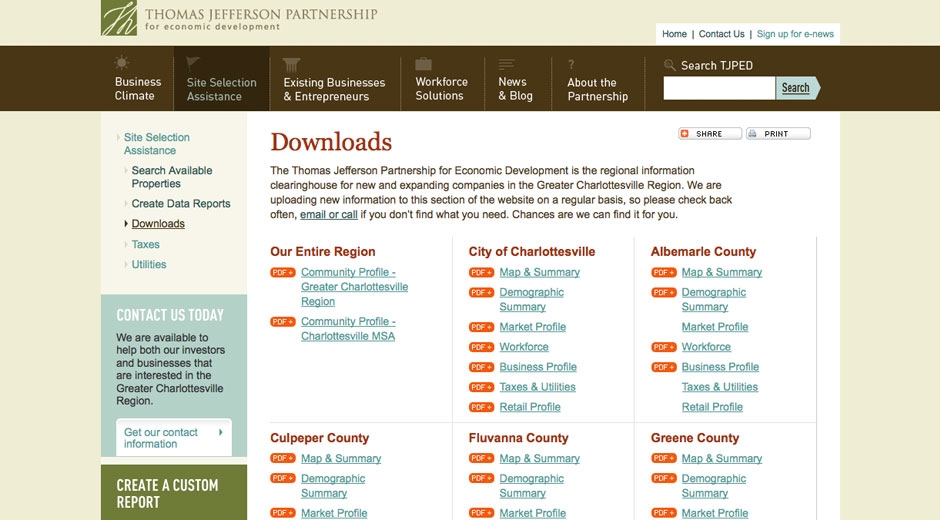 Rather than creating a custom report, visitors can download raw data that TJPED staff can provide access to through the CMS.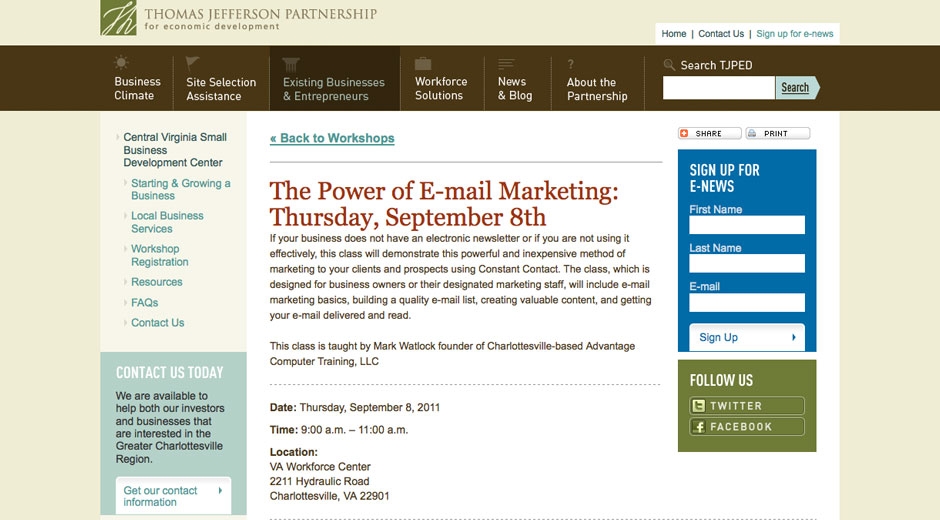 Businesses in the community can register and pay online for business seminars.
Situation
The TJPED website hadn't been updated in years, and much of the information was out of date. The website didn't effectively communicate the quality of life aspects of the region. The Partnership also was expanding its services by bringing the workforce development center and small business assistance teams in-house.
Solution
An updated, inviting homepage design was presented to orient each of three core audiences, and to show location and lifestyle aspects of the region. The new website is visually-rich and interactive. The homepage features a slideshow of business, cultural and outdoor photographs that can be easily changed by Partnership staff. An interactive map was developed for the homepage that gives the visitor more information about the counties that make up the Thomas Jefferson Partnership region. The map is fully-maintainable from the content management system.
A custom report builder was developed to allow TJPED staff to upload documents for each locality, and the public-facing report builder serves as a data hub for site locators. A custom report can be configured and downloaded in PDF format. In the content management system, TJPED staff can prepare a customized report for any county in the region.
Results
The Partnership's non-technical staff can now update almost all aspects of the website in-house using the secure, web-based content management system we installed and customized. The Partnership now updates data as it changes and adds news to the website, ensuring website content is as up-to-date as possible.
Small business support staff can publish upcoming seminars and accept payment and registration for events, enabling them to more effectively manage seminar registrations.
The website also received an Honorable Mention for Excellence in Economic Development Award at the 2011 IEDC Annual Conference.
Visit the website › Contact us about your website ›
---
"Rick's greatest strength is his ability to listen to what a client tells him they need and translate that into a working website. He was able to achieve that with maybe 3 hours of Q&A with us.

We've had lots of positive feedback on the site from everyone. Any modifications that we've made we've done ourselves, thanks to the backend content management system RWC set up for us. We're running announcements and booking seminars off the site now, our local partners are using the site for data downloads and prospect proposals, and the general public now sees it as THE source for regional economic data.

Rick Whittington Consulting is very customer service oriented – pleasant, understanding, and fast."
– Michael Harvey, President
---
More Work