Stafford County Economic Development
Stafford County, Virginia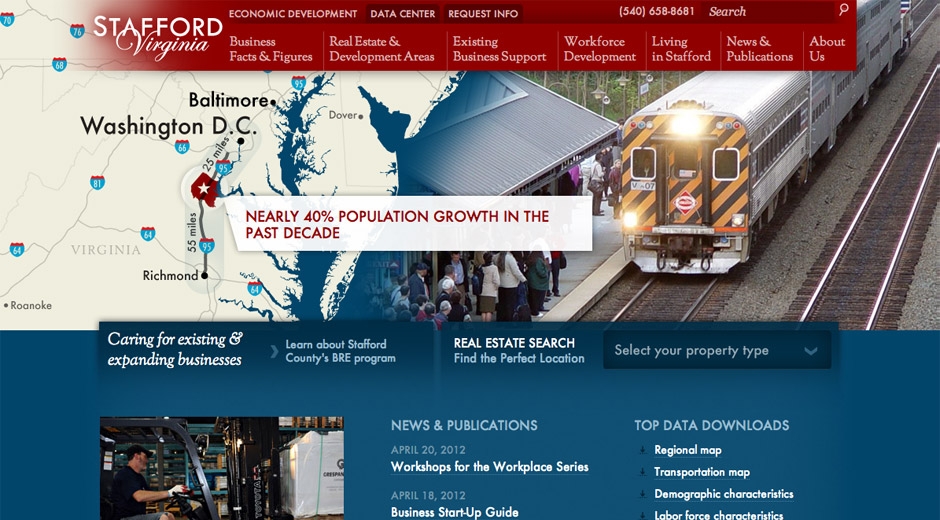 Stafford County Economic Development homepage
Stafford County Economic Development homepage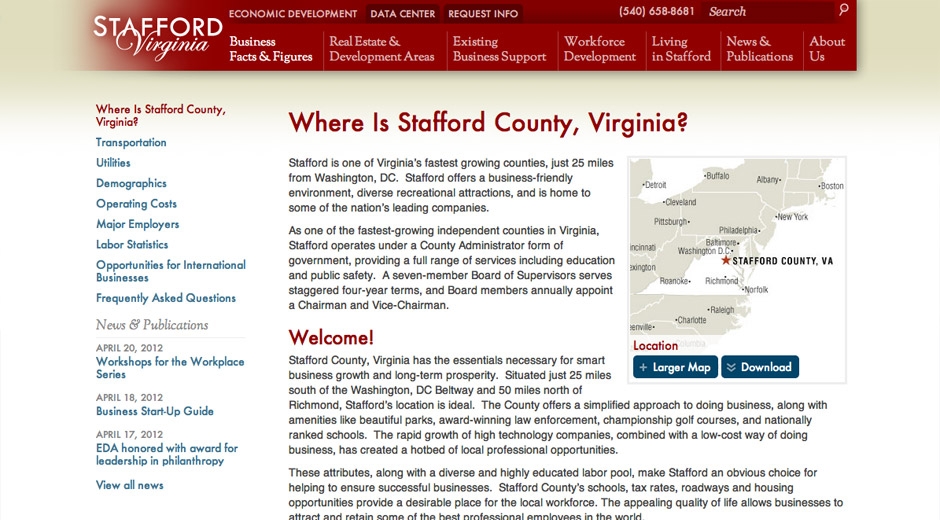 Maps in content can be enlarged and downloaded as a PDF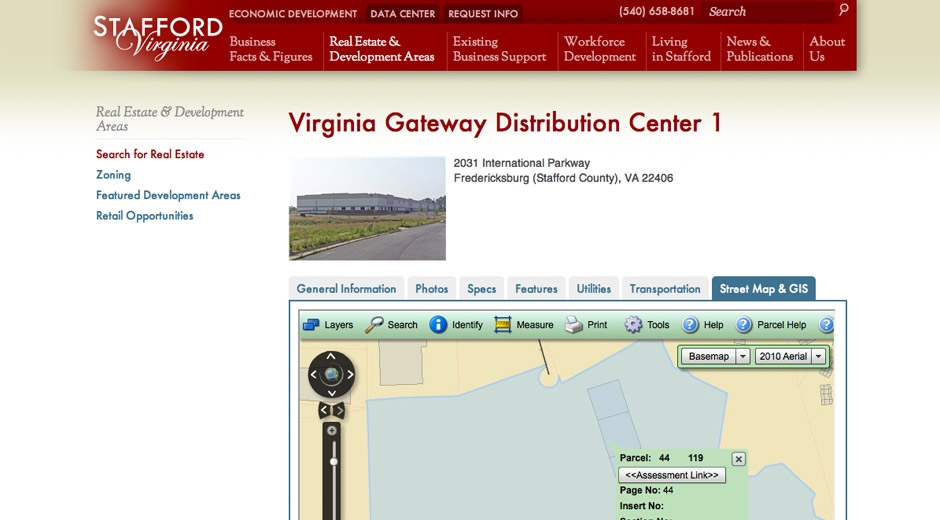 Real estate listings integrate County GIS parcel information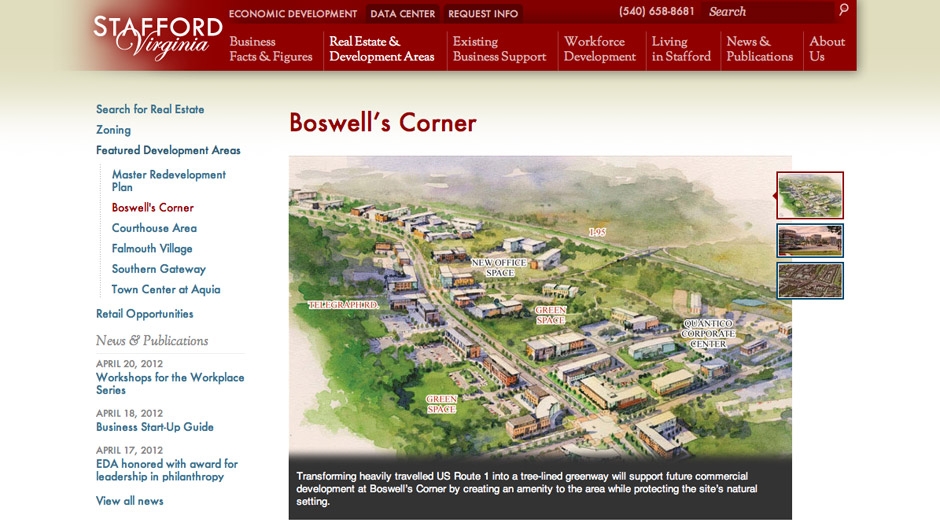 Featured redevelopment areas with project information and maps
Data Center/Proposal Builder generates a customized PDF report
Situation
Stafford County's economic development website, GoStaffordVa.com, was dated and bland. The design was outdated, and key statistics and data were missing or severely out of date.
The website also lacked a clear focus. In addition to economic development information, there was extensive content pertaining to tourism in Stafford County.
Solution
We first conducted an exhaustive assessment of the website. We used the IEDC data set to guide content updates and creation, to ensure the new website included key facts and figures.
A new real estate listings system pulls in all real estate listings in Stafford from Virginia's "Virginia Scan" system on a nightly basis. The new listings system also integrates with Stafford County's GIS system to provide "one-stop" access to GIS parcel information and other important site data.
A new "data center" allows prospects and economic development staff to select documents from a list and build a custom report in seconds.
These enhancements are further complemented by a refined design with a rich color palette, compelling graphics and photography of the people and places of Stafford County.
Results
The Stafford County Economic Development website now paints an accurate and compelling picture of the economic climate in Stafford and available business opportunities.
GoStaffordVa.com is purely dedicated to economic development information. Tourism content will be moved to a separate website with its own URL. Prospects will have an easier time finding relevant content.
The website also adjusts itself to suit different screen sizes automatically, thus preserving readability and usability on a variety of devices, ranging from laptops and large computer screens to tablets and smartphones.
The new website, with its expanded data and tools and clearer brand identity, provides Stafford County with a solid online marketing platform and positions the County for continued growth.
Visit the website › Contact us about your website ›
---
"We couldn't be more pleased with the way our new economic development website turned out. After an exhaustive search, including review of proposals from 23 firms, our confidence that Rick Whittington Consulting was the best group for the job proved true. In addition to a creative design, easy navigation, user-friendly platform, and some great new features such as the Data Center, the RWC team was extremely accommodating and eager to facilitate the integration of new tools such as GIS mapping into our website. They worked cooperatively with the County's GIS team and patiently explored the best options for delivering the features and functions we had requested.

We're delighted with the end-result and look forward to maximizing the exciting new capabilities and enhancements the website will bring to our marketing and economic development efforts."
- Tim Baroody, Deputy County Administrator
---
More Work