Henrico County Economic Development Authority
Henrico, Virginia
97%
increase in user engagement in the first 3 months.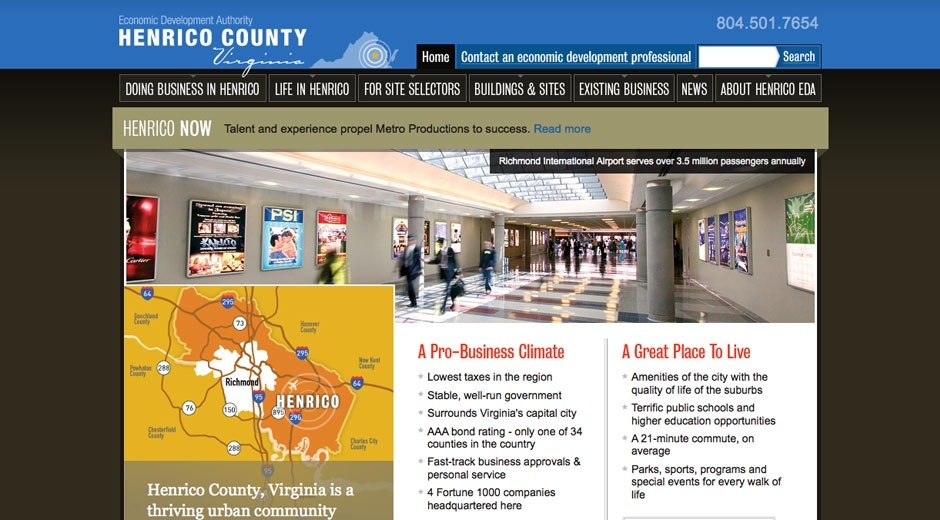 Henrico Economic Development Authority homepage features a slideshow, a map and featured news.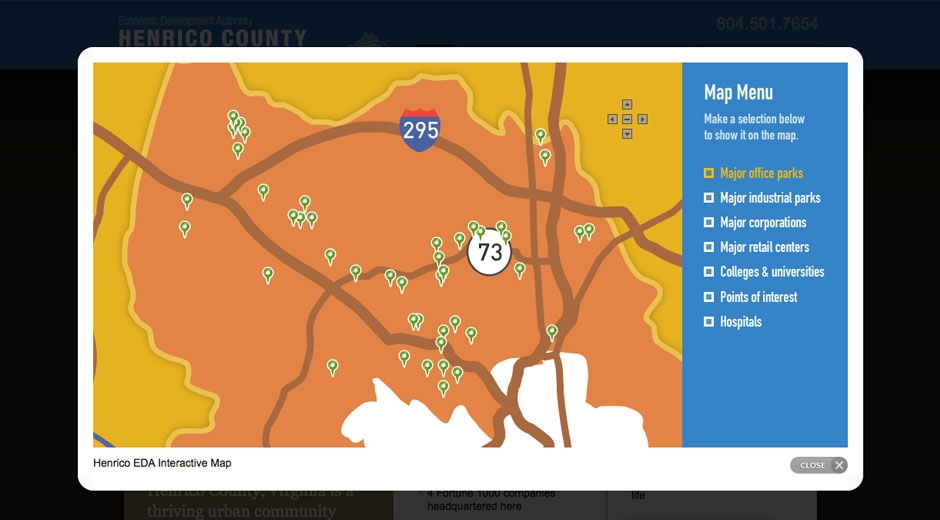 An interactive map shows points of interest.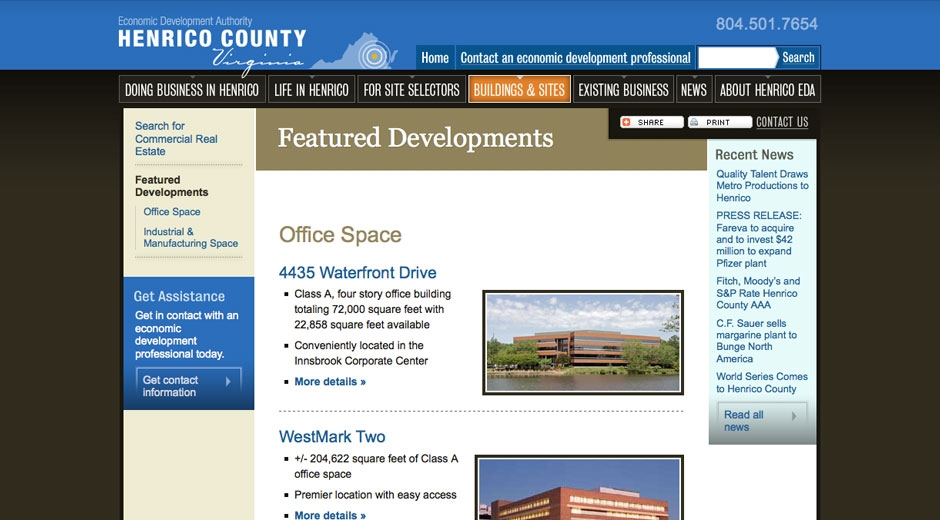 Henrico EDA staff can publish information, including photos, site plans, floor plans, etc. on featured commercial properties.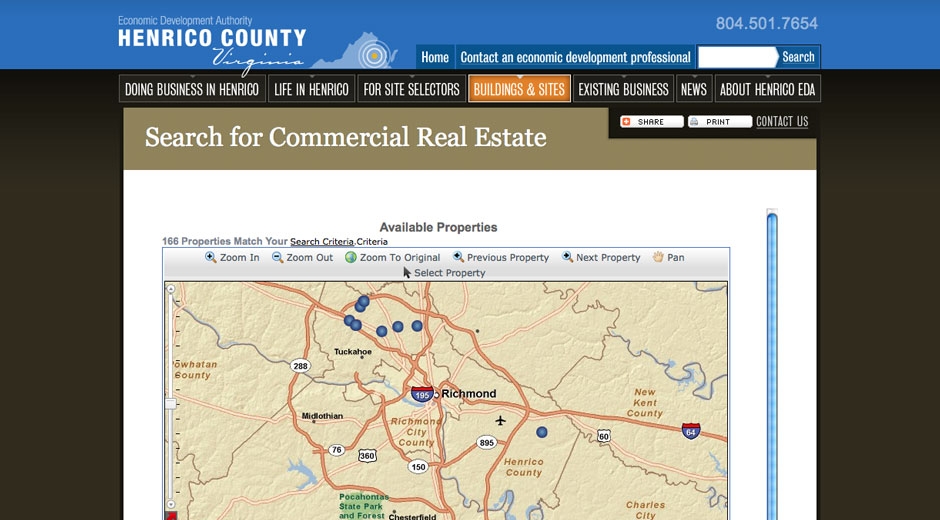 Visitors can search Virginia's commercial real estate system directly from the Henrico website.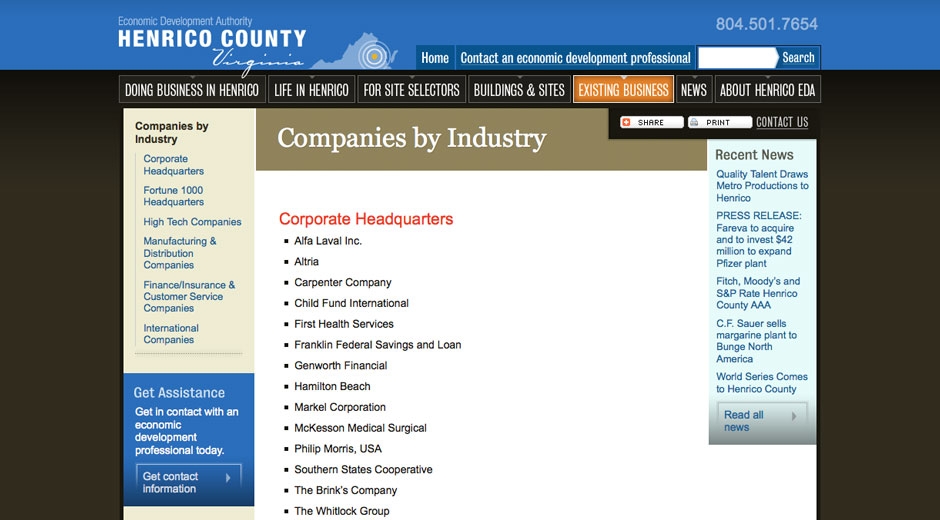 The content management system maintains a list of companies in the county.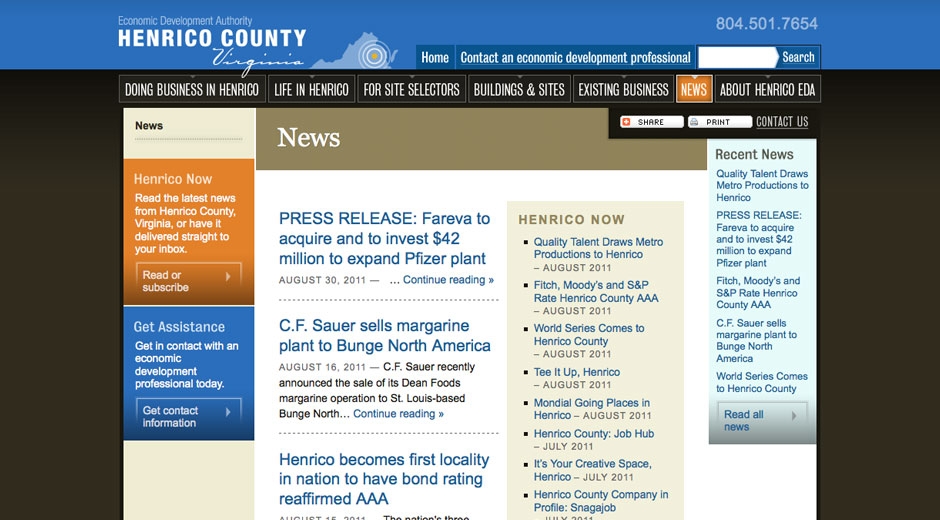 Henrico EDA staff can publish news items in-house, and the website integrates with external news features.
Situation
Henrico EDA needed to present compelling data for site selection consultants, showcasing the county's vibrant lifestyle and promoting its great location for companies, employees and their families. The website needed to be more appealing, exciting and user-friendly while generating viable leads.
Solution
We focused on reorganizing content and improving visitor engagement on the site through an interactive map pinpointing different business, lifestyle features and landmarks in the county. We also implemented advanced site analytics, like tracking specific user-initiated actions, to determine what companies visit the website daily and track both phone calls and e-mail prospects originating from the site.
Results
Henrico County EDA staff can now keep their website up-to-date in-house with our content management system, which allows non-technical staff members to publish information.
The Authority can now intelligently determine which website features are used most frequently, know specifically what companies are interested in their services and know when a phone call originates from their website. User engagement has increased by 97%, visits have increased by 42% and page views have increased by 67%.
Visit the website › Contact us about your website ›
---
"Rick Whittington Consulting was very responsive and results-driven in an aplomb manner. They put our needs first and seemed to have the right balance between technical development and creative layout. I liked that they told us new things about the redesign process that we could actually apply.

They were able to create a much better balance between the mounds of site selection data embedded in our website and the county's lifestyle and cultural offerings."
– Toney Hall, Director of Marketing
---
More Work