Hanover County Economic Development
Hanover County, Virginia
A unique and memorable brand.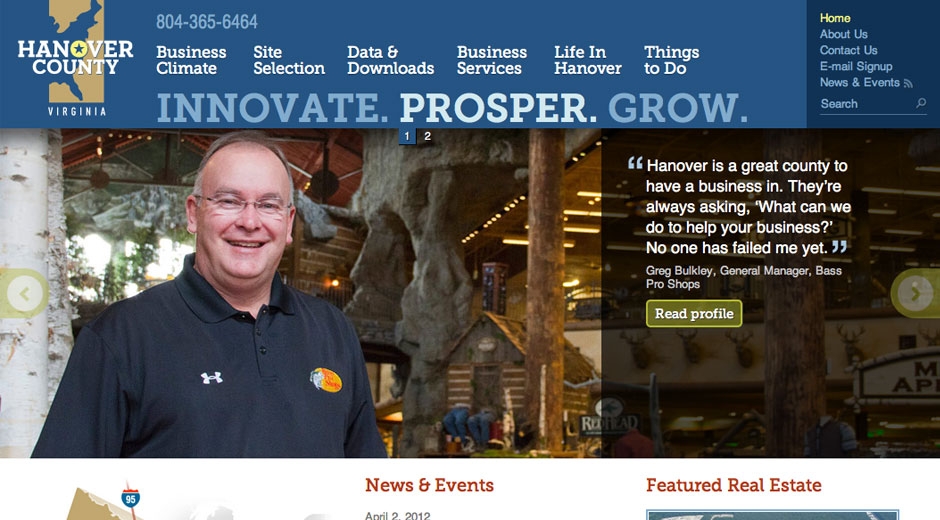 Homepage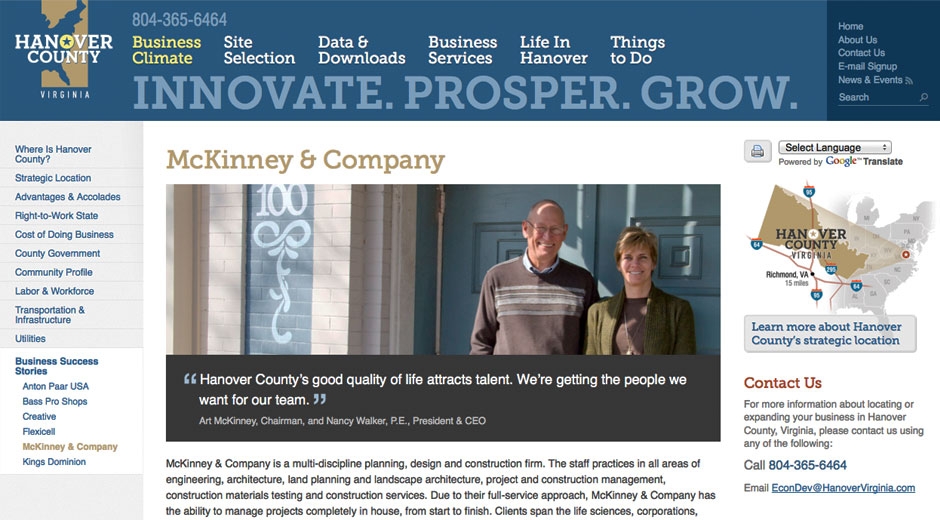 Business profiles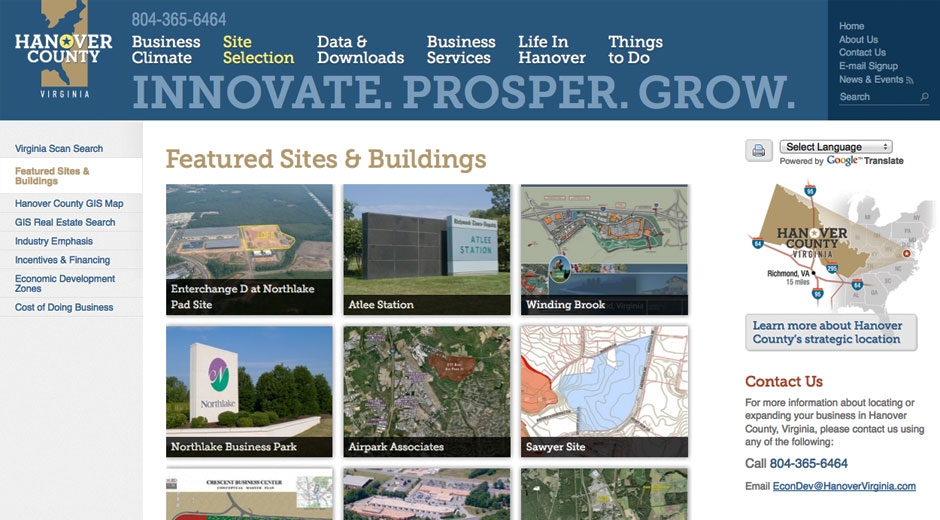 Featured sites & buildings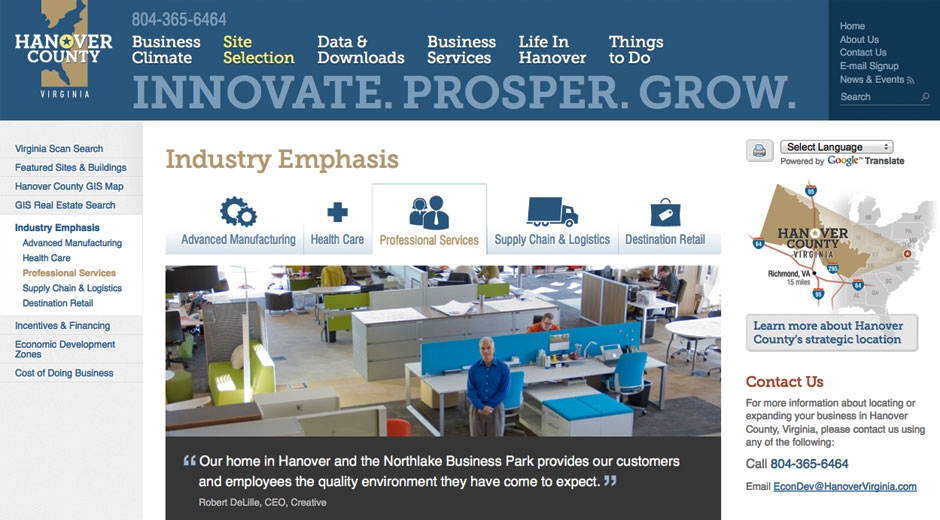 Dedicated target industry pages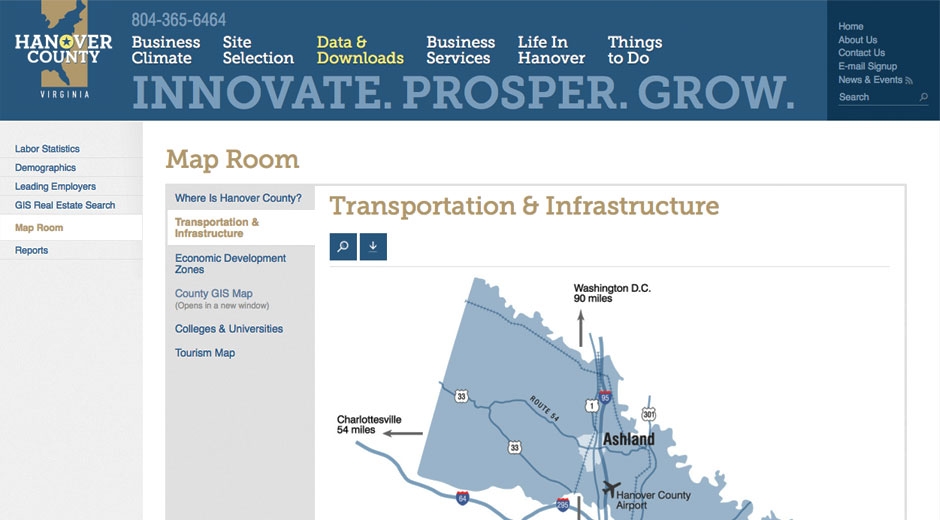 Map room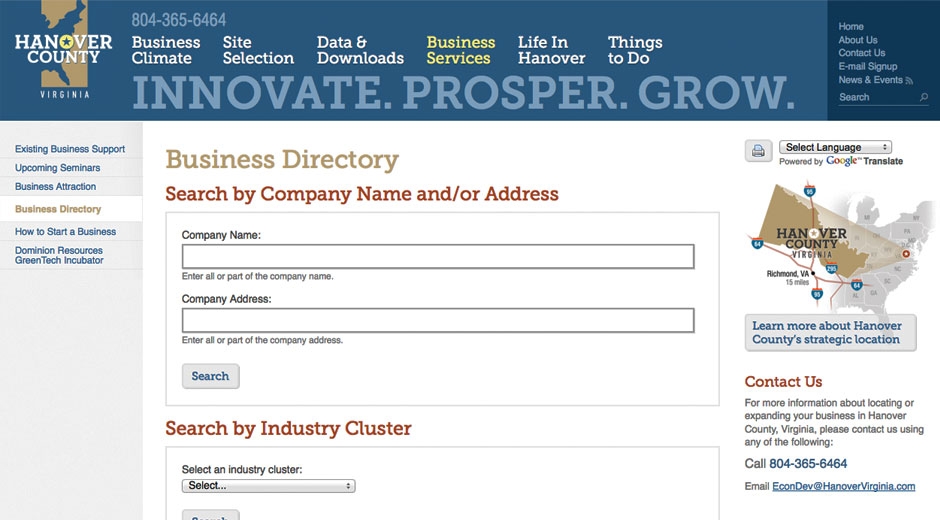 Searchable existing business directory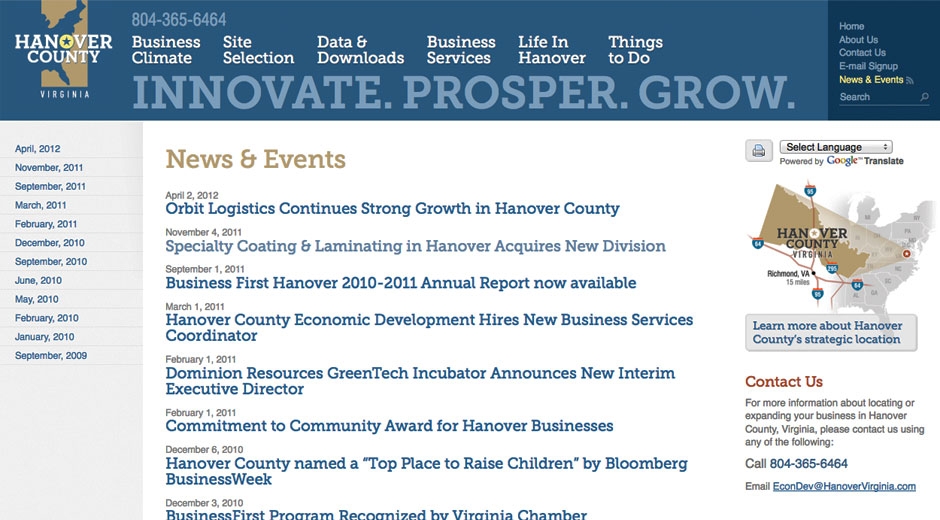 News & events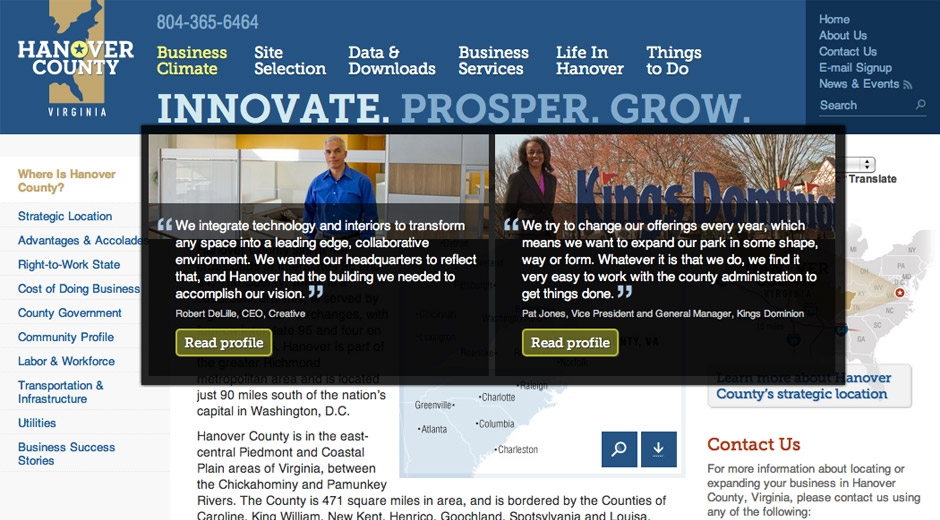 Success stories of leading businesses
Situation
Hanover County Economic Development's website was data-focused, but the data was outdated.
HCED also lacked a unique, memorable brand. The development and prosperity of neighboring localities overshadowed the County's own business opportunities and impressive economic growth.
Solution
We provided direction for place branding, which included the creation of a brand positioning statement for HCED: "Innovate. Prosper. Grow."
The tagline is a prominent feature on the website. Testimonials from local business owners and photography of their businesses tie into each tenet to assert Hanover County as a first-rate business location where innovation, prosperity and growth are the norm.
The website boasts enhanced functionality as well. The website features a custom real estate directory, plus integration with the state's "Virginia Scan" system, the County GIS real estate search tool and the County GIS map. Target industries have unique, dedicated landing pages that HCED can reference in other online and offline marketing campaigns. Existing and prospective businesses can search through a custom database compiled from several sources and lists over 3,000 businesses in the County. Social sharing and a "news and events" publishing system are also integrated.
Results
The new website balances critical data with compelling copy and visual elements that truly distinguish Hanover County from other localities. The business profiles and custom photography provide living proof of Hanover's thriving business environment. They also allow visitors to "meet" local business leaders without having to wait for a visit.
The website looks great on a projector, TV screen, large monitor, laptop, tablet or smartphone. The website is "intelligent;" it automatically adjusts itself for the size screen it's viewed on.
HCED now has a brand platform and message on which to build future marketing communications, both online and off, and has the online tools needed to make the County more competitive.
Visit the website › Contact us about your website ›
---
"Our goal is to brand Hanover County as a great place to do business and to provide a resource for existing businesses. Rick Whittington Consulting's concept and execution really exceeded our expectations. Rick and his team were able to advise us on what content needed to be included and how that content was best presented to our target audience. Their experience with the site selection community helped us tailor both our message and how it is presented. I can't underscore enough the value of their economic development knowledge and experience."
– Edwin Gaskin, Director
---
More Work